HONORING AMERICA'S HEROES
The Spirit of Liberty Foundation is a 501 (c)(3) non-profit organization based in Rancho Santa Fe, California. It was originally formed to raise funds and assist in the restoration and maintenance of the Statue of Liberty as well as Ellis Island. After the restoration was completed, and as a result of 9/11, the Foundation's mission was changed to enhance the meaning and importance of Liberty.
In 2005, the Foundation's name officially changed to become the Spirit of Liberty Foundation to reflect its broader mission – enhancing the meaning of Liberty and supporting America's Heroes, our Armed Forces, who volunteer to risk their lives to protect the Freedoms and Liberties that Americans enjoy every day, with an emphasis on honoring and supporting Active Duty, Veterans and their families.
In 2016, the Foundation's mission was expanded to also create meaningful jobs and incomes through the introduction of American Warrior Brands.
In 2017, the Foundation appropriately added to its mission honoring and supporting First Responders, who also risk their lives every day to protect Americans within our borders.
Operation Lifting Spirits, a Magical 2nd Christmas to Remember!
Over 1,000 devasted families lost their homes in the Boulder, Colorado fire just days after Christmas. Sadly, all their Christmas gifts, ornaments, and decorations that they just enjoyed a few days before are now just a pile of ash.
We are working with several Boulder-area churches to give these families a "Magical 2nd Christmas to Remember on February 23rd.  We'd like you to help these families by donating Christmas ornaments, whether it's just one or a dozen, for  the event on February 23rd at Flatirons Community Church, the largest church in Colorado, where Santa and Mrs. Claus will distribute the ornaments and gifts to the families.
Our goal is to collect at least 200,000 ornaments in 30 days … with your help, we can make this happen!
Send your donations to:
Flatirons Community Church
Attn: 2nd Magical Christmas Donations
400 W South Boulder Road
Lafayette, CO 80026
"National Memorial Day Salute" by The Spirit of Liberty Foundation
Memorial Day: Ceremonies honoring our fallen heroes around Philadelphia area
2021 Spirit of Liberty Award
Our America's Santa has a special holiday message for our troops!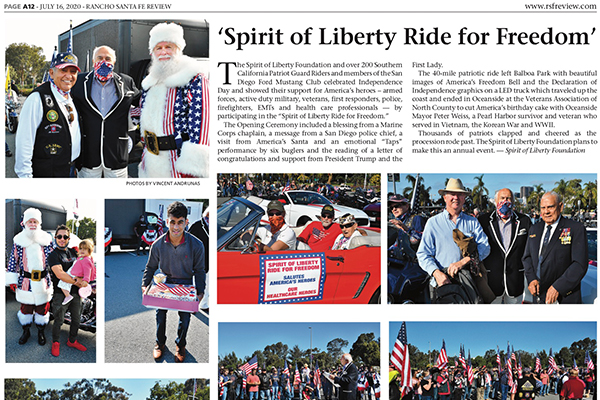 Spirit Of Liberty Ride For Freedom
The Spirit of Liberty Foundation made Valentine's Day Special for the 300 residents at the Veterans Home of California – a HUGE SUCCESS!
Recent National Coverage of America's Freedom Bell at Arlington National Cemetery
Congressman Louie Gohmert shows support for his fellow Members of the 116th Congress that he was honored alongside at the Veterans Museum on July 21st, 2019, for their outstanding service in our Armed Forces.
The Spirit of Liberty "Crossing America" Honor's America's Heroes, our Armed Forces, Active Duty Veterans and First Responders with the exclusive Patriotic Limited-Edition Spirit of Liberty FORD Pick Up Trucks.
OUR PROJECTS
The Spirit of Liberty Foundation organizes special projects and events every year to honor the Men and Women who have or are serving in our Armed Forces.
2021 Memorial Day Salute
David R
2021-06-29T16:49:07-07:00